.
A. R. QUINTON PICTURE POSTCARDS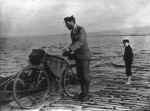 QUINTESSENTIAL QUINTON Edition II - £30 plus £3 p&p UK - order here...
We completed Edition 2 of 'The Quintessential Quinton' picture postcard art card catalogue in 2004. All advance paid orders were despatched and we are still taking orders. For your reference, this catalogue only contains the Salmon Water Colour Drawings, as it is too large now to fit all the publishers into one binder. The next edition, Edition 3, should correct that, as we will then be forced to go to A4 format. Postage and packing to America, Australia, Canada and New Zealand is £7.50.
Alfred Robert Quinton is ranked the most popular British artist in this country's postcard hobby. The sheer number of postcards painted by him for Salmon has meant the listings we have, of cards available, have had to be broken down into smaller sections.
All postcards are unused unless otherwise stated. Subject Unsold. E&OE.
~ ~ ~