GEOFF WHITE PUBLICATIONS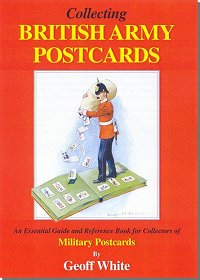 Collecting British Army Postcards by Geoff White
An essential guide and reference book for collectors and dealers.
Its 272 printed pages are packed with useful facts and information. A further 8 blank pages at the back allow for additional notes. Over 370 postcards are illustrated and the pictures are included with the text, thus eliminating the need to be constantly changing pages.
After the brief introductory chapters, the main body of the book consists of an alphabetical listing of publishers with check lists of sets and series of postcards they published. Beside the description of each card is a tick box. This provides an easy way of recording the cards already collected.
Specifically designed for ease of use at home and at fairs, this handy A5 work is easy to carry around. The spiral binding allows it to be be laid flat without fear of the pages turning.
Originally published at £16.95
Our Order Code: GW-CBAPC
Postage and Packing charges for Geoff White Publications to UK only:
1 Book - £2.75 ~ 2 Books - £5.50 ~ 3 Books - £8.25
Please allow 28 days for delivery
~ ~ ~