ROSALIND WICKS POSTCARDS
Of all the modern postcard artists in the United Kingdom, Rosalind Wicks is one of the most genuine and enthusiastic. We first met Rosalind in 1994 at a major exhibition in London and from there the ensuing friendship has grown. She certainly fits the description 'lovely lady' to a tee.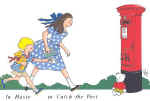 Art Postcards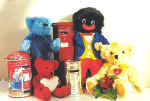 Teddy Bears and Money Boxes
All cards are 100mm x 150mm unless otherwise stated.
Designed and published by Rosalind Wicks © 1991 - 2004.