.
C. ESSENHIGH CORKE PICTURE POSTCARDS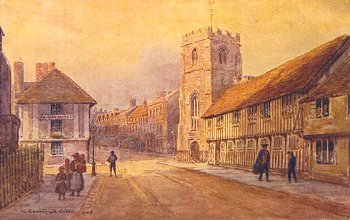 Title: Guild Chapel and Grammar School, Stratford-on-Avon.
Publisher: J. Salmon, Sevenoaks, England ~ No: 566
From an original water colour drawing by C. Essenhigh Corke
Type 1 divided back
"And then the whining Schoolboy with his satchel and shining morning face creeping like a snail unwillingly to school." - AS YOU LIKE IT
Code: PC-SALMON-566 ~ Grade: A- ~ Price: £4.50 ~ SOLD
© Printed & Published by J. Salmon, Sevenoaks.
.