.
C. ESSENHIGH CORKE PICTURE POSTCARDS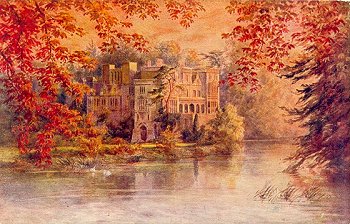 Title: Guys Cliff, near Warwick.
Publisher: J. Salmon, Sevenoaks, England ~ No: 557
From an original water colour drawing by C. Essenhigh Corke
Type 1 divided back
"As plays the sun upon the glassy streams.." - HENRY IV.
Code: PC-SALMON-557 ~ Grade: A- ~ Price: £3.50
© Printed & Published by J. Salmon, Sevenoaks.
~ ~ ~