DRUM HORSE POSTCARDS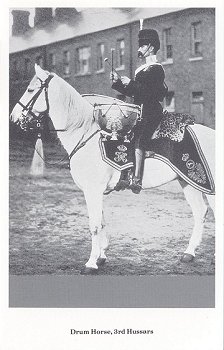 Drum Horse, 3rd Hussars
The illustration, which was first published in 1896, shows the Drum Horse of the 3rd (King's Own) Hussars. The regiment was permitted to hay and extra drummer and drum horse, an honour which was conferred on the regiment on Christmas Day 1778 by King George III.
The kettle Drummer is shown wearing the uniform of a sergeant, with a silver collar which is engraved with military devices. The collar was presented to the regiment by the wife of the Hon Charles Fitzroy, Colonel of 3rd Dragoons, The former title of the regiment.
The silver kettle drums are also of interest as they were captured at sword point by members of the regiment during the Battle of Dettingen in 1743. A leopard skin saddle cloth is worn by the horse over the shabraque.
This text was kindly researched and prepared by Alan Harfield (FR Hist S)
Copyright © 1989 Published by Geoff White Ltd.