THAILAND POSTCARDS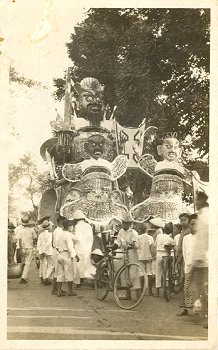 Title: No Caption
Postally used, stamp removed
Description: Funeral procession
Publisher: Unknown
Photographic black and white postcard with POST CARD divided back
Code: PC-THAILAND-0057 ~ Grade: D ~ Price: £2.50
Card measures 83mm x 134mm
Message on reverse of card reads:
"This card is not as bright as it is a picture of a funeral however we are not dead yet. Kind regards to all. Jim
Dear Smitty. Thanks for your card I was not sure that you were still with Gmac so did not know where to address you. Having a good time here but anxious to get back as it is three years since I left. expect to sail main fleet so should be back home early in May."