CEYLON POSTCARDS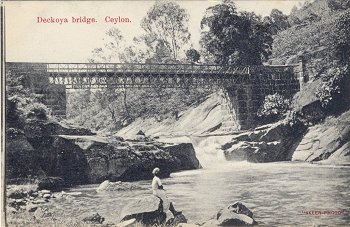 Title: Deckoya bridge. Ceylon.
Publisher: "SKEEN-PHOTO"
Printed Black, White and Red postcard with POST CARD divided back
Code: PC-CEYLON-0120 ~ Grade: B+ ~ Price: £2.50 ~ SOLD
Card measures 137mm x 89mm
Notes: Hand written message on reverse reads
"Dickoya is halfway between Badulla & Diyatalawn Camp. The bridge seen here branches off from the main road to an estate. ¼ mile above this is a large tea factory & where the machinery is driven by turbines as well as by steam."
Note: The above text has been crossed through then:
"I mistook Dickoya for Dickwella."