CEYLON POSTCARDS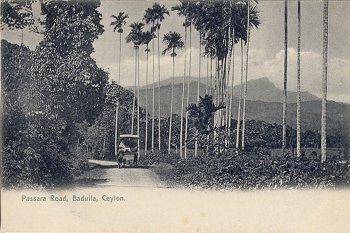 Title: Passara Road, Badulla, Ceylon.
Publisher: Plâté & Co., Ceylon (Copyright).
Printed Black and White postcard with UNION POSTALE UNIVERSELLE / CEYLON (CEYLAN.) POSTCARD divided back in red
Code: PC-CEYLON-0068 ~ Grade: B ~ Price: Ł2.00 ~ SOLD
Card measures 135mm x 90mm
Notes: Hand written message on reverse reads
"Don't part with this card.
The palms in this card belong to the species called the Arecanut palm & supplies the material for making Arecanut tooth paste. Note the beautiful hills in the background. When in Badulla I used to walk along this high road. Don't you think it is a bit more beautiful than a walk through the woods. Dick. With kind regards from Mr. & Mrs Frewin."