CEYLON POSTCARDS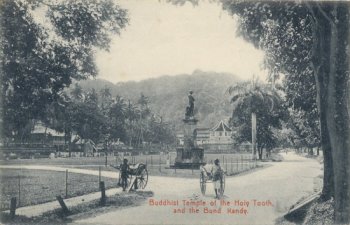 Title: Buddhist Temple of the Holy Tooth, and the Bund. Kandy.
Publisher: Plâté & Co., Ceylon (Copyright).
Printed Black, White and Red postcard with UNION POSTALE UNIVERSELLE/CEYLON (CEYLAN.) POSTCARD divided back in red
Code: PC-CEYLON-0053 ~ Grade: B ~ Price: Ł4.00 ~ SOLD
Card measures 138mm x 88mm
Notes: Hand written message on reverse reads
"Do not part with this card.
The solitary palm tree standing in front of the statue is a Sago Palm tree. Note the rickshaws & the two men. Kandy is a fairly large town but the buildings cannot be seen altogether on account of the lovely trees. Remember the Linton Chalk Pits. Dick.
With kind regards from Mr. & Mrs, Frewin."
.