CEYLON POSTCARDS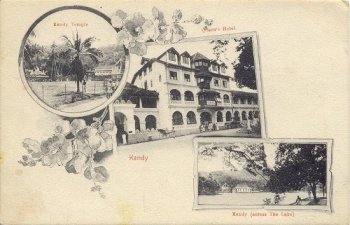 Title: Kandy - Kandy Temple, Queen's Hotel, Kandy (across The Lake)
Publisher: Plâté & Co. 123
Printed Black, White and Red vignette style postcard with UNION POSTALE UNIVERSELLE/CEYLON (CEYLAN.) POSTCARD divided back in red
Code: PC-CEYLON-0016 ~ Grade: C+ ~ Price: Ł7.50
Card measures 138mm x 89mm
Notes: Hand written message on reverse reads
"My Dear Floss, Hope your splintered heart is rapidly healing up. Keep away from the "blessed" men & you are sure to do well. Do not be too extravagent & careless in the management of your clothes & money matters, & wait till Mr Wright comes round Sincerely yours, Tom." (the message has been scribbled over in pencil)
"To Floss, Wishing you a Happy Christmas & Bright New Year from Tom"