CEYLON POSTCARDS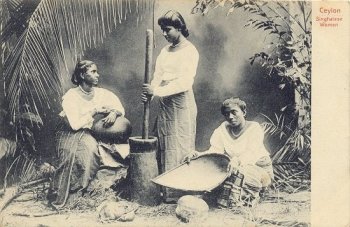 Title: Ceylon Singhalese Women
Publisher: Plâté & Co. 83
Printed Black, White and Red postcard with
UNION POSTALE UNIVERSELLE/CEYLON (CEYLAN.) POSTCARD divided back in red
Code: PC-CEYLON-0014 ~ Grade: B ~ Price: Ł5.00 ~ SOLD
Card measures 138mm x 89mm
Notes: Hand written message on reverse reads
"Do not part with this card.
Preparing Rice. The central figure is pounding rice in the mortar to take away the bran. The figure on the extreme right shifts it with the fan. John the Baptist speaks of this fan. Dick
With Kind regards from Mr & Mrs Frewin."